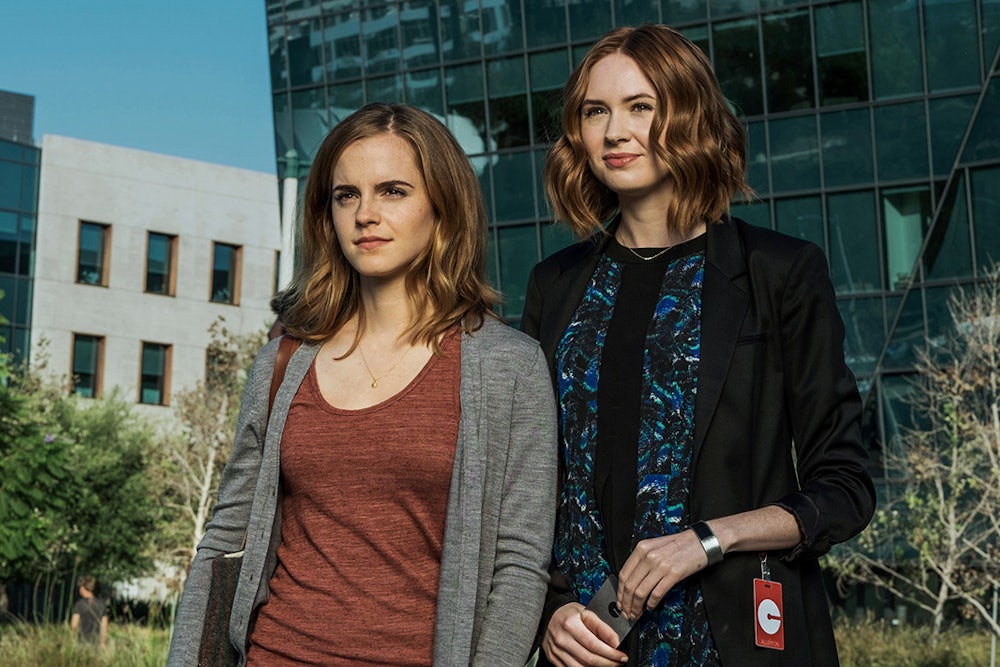 Endless Circle: Emma Watson and Karen Gillan star in an overlong Netflix nasty
The week's best and worst new films on DVD, Blu-ray, and VOD. All movies are available to buy, rent or stream right now, unless otherwise stated...
Ratings guide:

WWWW

- Wonderful

WWW

- Worthwhile

WW

- Watchable

W

- Woeful
With the Twin Peaks revival in full swing and Mulholland Drive receiving a swanky new 4k restoration and reissue only a few months ago, the release of David Lynch: The Art Life (cinemas and VOD) WWW½ couldn't be more timely. But anyone expecting to see the cult director's classic TV show or critically-adored movie (the best film of the 21st Century, according to a BBC poll) given house room in this intimate portrait of the man, may well be disappointed. Jon Nguyen and Rick Barnes' documentary focuses exclusively on Lynch's early life and takes us no further than his debut feature, Eraserhead, made in 1977. Despite
that, however, it provides a unique window into Lynch's personal history, his working process, and thoughts on art and life.
One of the things I love about Lynch – now 71 – is the contrast between the dark and disturbing nature of his work and the personable, undemonstrative figure he cuts in interviews. Here he is simply put in front of a microphone and asked to talk about his life, starting with his very early years. If Nguyen and Barnes ask questions or feed him prompts, you never see or hear them as the movie dances to the tune of Lynch's voice, whether he is soberly discussing his upbringing (surprisingly happy), or working on his latest painting. It's sometimes easy to forget that art is as big a part of Lynch's work as his movies or TV shows, and this film is keen to redress that balance. The directors place his paintings front and centre throughout, and the title itself – The Art Life – merely underlines that intention.
As you'd imagine, Lynch has a wealth of fascinating anecdotes to impart. I was particularly struck by his descriptions of 1970s Philadelphia, where he admits to being scared quite a lot of the time but also incredibly inspired by the sheer dystopian malaise of the place. He goes on to tell a great story about his dad, Donald, paying him a visit in the city, and being taken down to the basement to check out the young artist's latest projects and experiments, some of which involved rotting fruit and dead birds. On the drive back to the airport, his dad (who'd clearly been discomfited by his son's work) turned to him and said: "Dave, I don't think you should ever have children."
I guess the temptation when making a documentary about Lynch must be to make it as odd and difficult as some of his films but Nguyen and Barnes do the exact opposite – this is an accessible, linear and thoroughly enjoyable piece of work and I sincerely hope we get a second instalment in the near future.
Art attack: David Lynch talks about his life and career
I've given up trying to keep track of when the latest Netflix Original will drop on the increasingly infuriating streaming service, so The Circle W½ could have been on there three days, three weeks or three months, for all I know. Based on a novel by Dave Eggers, it sees Beauty & The Beast's Emma Watson landing her dream job at the titular Facebook-style social media and tech company in Silicon Valley, but quickly finding her life and identity taken over by its corporate strictures and demands. Under the watchful eye of The Circle's head honchos (Tom Hanks and Patton Oswalt), Watson ends up going "fully transparent", i.e. having her every move (outside of bathroom breaks) beamed live to a massive global audience 24 hours a day.
It kicks off quite well - a bit Steve Jobs, a bit The Truman Show – with some well-aimed barbs at corporate culture and the erosion of privacy. Unfortunately, about halfway through, proceedings take a turn for the melodramatic and something that had already started to lose my interest, became a challenge to finish. Sure, there's directorial flourish here from James Ponsoldt (who co-wrote the screenplay with Eggers) and for once the computery on-screen visuals (messages, icons, emojis etc) are quite well integrated into the live action. Ultimately, though, if The Circle lacks anything, it is pace. There are odd digressions and at least two characters who are literally nothing more than the thinnest of plot devices.
I struggle with Watson – she was fine in The Bling Ring (directed by Sofia Coppola, how could she not be?) and certainly manages a passable American accent here. There's just something very ordinary about her – something unengaging and uncharismatic. I wasn't really that bothered about her character, Mae, her struggling parents (played by Bill Paxton and Glenne Headly), or dull potential love interest (Boyhood's Ellar Coltrane). In truth, Karen Gillan – as her best friend – isn't a whole lot better in a fairly thankless role. And will someone please give Oswalt something more meaty than this peripheral second-banana stuff? His fine turn in Young Adult seems an awful long time ago now.
In fact, the best thing about the whole shebang is – predictably – Hanks, a creepy Steve Jobs-esque figure who, with his dress-down

Friday

attire and matey bonhomie, captures that faux man of the people/heartless capitalist bastard vibe perfectly. He should play rotters more often.
Logging off: Tom Hanks is the best thing about The Circle
Like Manchester By The Sea, The Levelling (DVD, Blu-ray, and VOD)

WWWW

begins with
its main character returning home following the death of a sibling. Whilst Kenneth Lonergan's film leavened its darker moments with occasional stabs of humour, though, Hope Dickson Leach's superb debut affords viewers no such respite. And whilst it lacks Manchester's sheer emotional gut punch, The Levelling makes up for that with a thematic heft and oppressive atmosphere that fair takes the breath away.
Set in 2014, after the real-life floods that devastated parts of Somerset, the film sees young veterinary student Clover (Game Of Thrones' Ellie Kendrick) return to the small dairy farm owned by her family. Her older brother Harry (Joe Blakemore) has committed suicide and she walks into a scene of utter turmoil, her father Aubrey (David Troughton) in deep denial about his son's death. Having had no insurance, and their home destroyed by the flood, Aubrey is now living in a trailer on the grounds of the farm and struggling badly to keep his head above water, both financially and mentally. There is distance between father and daughter, too: she calls him Aubrey, never dad, and he's clearly resentful that she went away to college rather than stay to work on – and eventually inherit – the farm.
So far, so bleak Channel 4 drama. The most impressive thing about The Levelling, though, is how it is more than the sum of its social-realist parts. In fact, there's almost something horrific about it. Its characters aren't being stalked by a madman with an axe or some alien monstrosity, but by the sheer bloody capriciousness and random awfulness of life itself. Troughton is a revelation as Aubrey – a wounded bear, drinking too much, under terrible pressure and approaching breaking point. He is a man all-but taken apart by rotten luck and cruel circumstance. Death, decay and foreboding are omnipresent here – glowering skies, flocks of screeching birds, illegally-shot badgers, mud and shit as far as the eye can see, and the damp innards of the flooded house. It should depress the hell out of you but is suffused with such skill, precision and craft that the film simply bowls you right over instead.

The Levelling is a clever title, referring at once to both the area in which the film is set – the Somerset Levels – and the way in which these characters have been reduced to the same 'level' as the livestock they farm. Penned into his small mobile home, out of choices and waiting for the axe to fall, poor Aubrey has no more agency than the male dairy calf Clover kills in one of the film's most powerful moments. Yes, it's a bloody hard watch but an incredibly rewarding one.


Cold comfort farm: The Levelling is bleak but brilliant
Finally, there's Slack Bay (MUBI)

W½

, an insufferable French comedy from director Bruno Dumont (Camille Claudel 1915). Set in 1910, it sees an affluent family arrive at their lavish holiday home for the summer, only to find themselves embroiled in a police investigation into a series of mysterious disappearances. It's quite intriguing and mildly amusing for the first half-hour but quickly becomes tiresomely wacky. People fall over a lot, the two lead cops look like Laurel and Hardy for some reason, and there's even a family of cannibals. I suspect it's all some sort of commentary on class conflict but any message is buried beneath a mountain of terrible overacting, especially from the usually dependable Juliette Binoche (I actually cheered when her character, Aude, was knocked unconscious late on in the film). In fact, there's so much chewing of scenery going on, at times I wondered if I was watching a really weird episode of MasterChef.
What I shall be watching this week: When Sofia Coppola has a new movie out – in this case, The Beguiled – I am there.