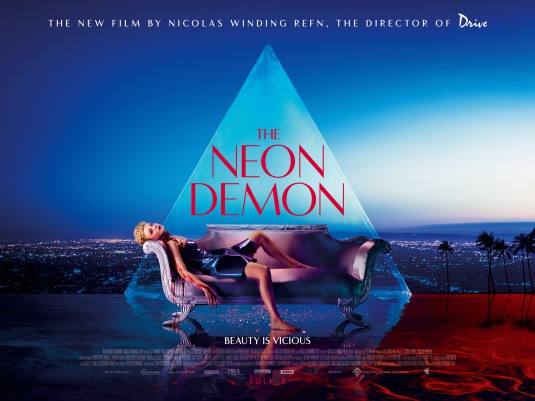 Bloody Elle: Fanning plays ingenue Jesse in The Neon Demon
1. The Neon Demon (2016) Nicolas Winding Refn is at his most fuck-you divisive in a film that merges horror, satire, high camp and the occult to thrillingly transgressive effect. Elle Fanning plays Jesse, newly arrived in Los Angeles with big ambitions to make it in the cutthroat world of fashion modelling. Her disarming youth and rabbit-in-the-headlights innocence prove an instant hit with photographers, agents and stylists, and it isn't long before she's beating more experienced models to the top jobs. How they loathe and envy her. Refn takes his time showing Jesse's career ascent but there's an unease tick, tick, ticking away in the background that no amount of cloudless LA skies or beautifully composed tableaux can eradicate. Death and danger permeate every frame here - from the opening shots of Jesse covered in blood for an amateur photo shoot to the recurring images of predatory big cats. You know something bad's coming, it's just a matter of when and how. And when Refn eventually turns up the batshit crazy to maximum, it's well worth the wait - a final half-hour involving necrophilia and cannibalism that fair takes the breath away. Gratuitous? No, simply the perfect conclusion to the themes and ideas he has laid out so masterfully throughout the rest of the film. We live in a culture that chews up and spits out youth and beauty - quite literally in The Neon Demon's case.
Rating:
WWWW
Angels and demons: Director Refn at his most divisive
2. Born To Be Blue (2015)
Boyhood's Ethan Hawke stars as Chet Baker in a "semi-factual, semi-fictional" biopic focussing on the legendary West Coast jazz trumpeter/vocalist's long road to redemption after a drug dealer he owes money punches out his front teeth. The injury badly affects the star's ability to play his instrument and he has to start again from scratch, while also fighting heroin addiction. The only bright spot in his life? Girlfriend Jane (Carmen Ejogo), who is trying to kickstart her acting career while helping the
'
60s jazzman battle his demons. I suspect the 'reimagined' nature of some of the material will put off Baker purists but
Robert Budreau's
film is no hagiography. The musician is depicted as driven and incredibly talented but weak and selfish, his addiction both a blessing and a curse. I know little of Baker or his
oeuvre but still
thought it terrific - a powerfully redemptive tale of a man who loses everything and moves heaven and earth to win it back, with no sacrifice too big. In a 30-year film acting career, I'm not sure Hawke has ever been better.
Rating:
WWW
Kind of blue: Ethan Hawke stars as Chet Baker
3. The Informant! (2009) Bourne star Matt Damon shows his impressive range as Mark Whitacre, the Ned Flanders-esque vice president of an American agricultural corporation accused of widespread price fixing. Seeing himself as some kind of super-spy, Whitacre turns informant but his FBI contacts (nicely played by Scott Bakula and Joel McHale) soon grow frustrated, and ultimately exasperated, by their inside-man's increasingly tall tales and bizarre behaviour. Steven Soderbergh's
'
90s-set comedy (based on a true story) is both funny and farcical, with every new twist and turn ratcheting up the absurdity to new levels. It's worth seeing alone for Whitacre's thoughts on a host of subjects (delivered in an amusingly monotone voiceover), including polar bear noses, Tokyo 'panty dispensers' and an unfortunate horse-related incident at a Renaissance Festival.
Rating:
WWW
Spy hard: Matt Damon is The Informant!
4. Elvis & Nixon (2016) Loosely based on a true story and a famous photograph, Liza Johnson's film imagines what really happened when the King of Rock 'n' Roll turned up at the White House one December morning in 1970 to directly petition the president to make him an 'FBI agent at large' (Elvis thought he could go undercover to turn the kids of America away from drugs and radical politics). A broad comedy from which neither The Pelvis or Tricky Dicky emerges unscathed, it has a certain breathless pantomimic appeal, and Michael Shannon and Kevin Spacey acquit themselves well in the titular roles. Ageing and culturally all but irrelevant at this point, there's a real melancholia to Presley, his boredom and capriciousness as obvious as his wealth. Perversely, the script lands more jabs on Elvis than it does Nixon, particularly the former's alleged appropriation of black music. At times it feels like there isn't enough material to justify its 86-minute running time (Elvis wants to meet Nixon, has to wait to meet Nixon, meets Nixon) but the film's undeniable wit and charm just about get it over the line. Rating:

WW
Elvis is in the building: Tricky Dicky meets The King
5. Possession (1981) It's been a while since I've seen a film as odd or disturbing as

Andrzej Zulawski'

s Possession. Set in Cold War Berlin, Mark (Sam Neil) returns home from a lengthy business trip to find his wife Anna (Isabelle Adjani) is about to leave him for another man (kung-fu libertine, Heinrich). However, neither is aware there is a fourth presence in their relationship - a terrifying tentacled creature that Anna keeps hidden away elsewhere in the city and visits for sex. Is Anna being controlled by a genuine Lovecraftian beastie from beyond or is the monster really just a metaphor for the ugliness that infects her relationships? Possession is a big shouty melodramatic pantomime with Neil and Adjani overacting for all they are worth, the film's grim mood made even more oppressive by its Berlin setting. There is a scene in which Anna has a violent fit on her way home from a shopping trip that is genuinely upsetting as is a later sequence in which we see her 'coupling' with the creature. It might be brilliant, it might be terrible, I really have no idea, to be honest with you. Rating:

WW
Drowning in Berlin: Possession is odd and disturbing
Ratings
WWWW

- Wonderful
WWW

- Worthwhile
WW

- Watchable
W

- Woeful