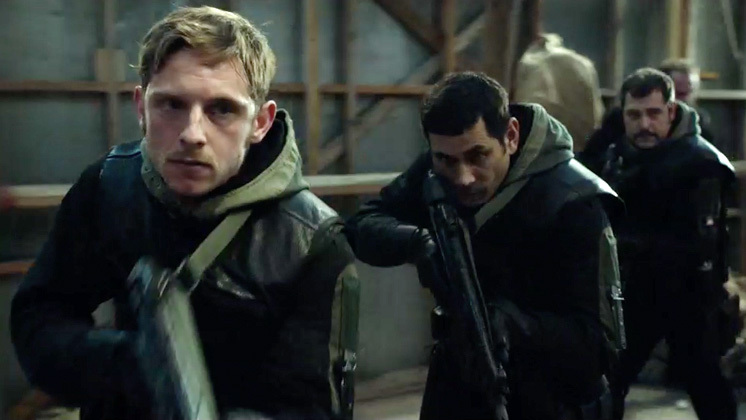 Armed and dangerous: Jamie Bell is SAS man Rusty Firmin in 6 Days
The best and worst of this week's UK home entertainment releases, on DVD, Blu-ray and VOD. All titles mentioned are available to rent, buy and/or stream now, unless otherwise stated.
Ratings guide:

WWWW

- Wonderful

WWW

- Worthwhile

WW

- Watchable W - Woeful
There are more than a few clunky moments in 6 Days (Netflix)

WW

but, for the most part, Toa Fraser's film is an absorbing recreation of 1980's Iranian Embassy siege in west London, in which terrorists stormed the building and took everyone inside hostage. A six-day stand-off ensued as an army of journalists and photographers gathered outside and members of the SAS prepared to launch a daring rescue attempt, an operation that was ultimately broadcast live to millions of TV viewers.
The film divides up its time between four main characters and cuts back and forth between them: Mark Strong's chief negotiator DCI Max Vernon, SAS man Rusty Firmin, played by Jamie Bell, BBC reporter Kate Adie (Abbie Cornish), and Salim (Ben Turner), one of the embassy gun men. For the most part, this approach works really well, making for a tight 94-minute drama in which the pace rarely lags. Unfortunately, the moments with Adie feel a bit pointless because they do little to actually advance the story, and there were even times I found myself giggling helplessly at Cornish's weird attempt at capturing the reporter's accent. It's true that Adie is pretty much the only woman with a proper speaking role in the film (then-Prime Minister Margaret Thatcher remains off camera throughout) but surely they could have done a bit more with her or even focused on another female character instead; one of the hostages, perhaps?
Some of the dialogue is a bit clumsy as well (at one point a tabloid journalist actually says the words "If it bleeds, it leads"), while you know the SAS men are rock-hard proper bloody blokes because they all say fuck, chew gum and have Burt Reynolds moustaches. They look so much alike, they could be brothers. That said, Strong brings gravitas to everything he's in (even insufferable tosh like that last Kingsman movie) and the moments when we see the SAS rehearsing possible tactics, and mostly fouling them up, really adds to the tension. It's also refreshing to see a film that actually takes a moment to explain why the gunmen had been motivated to act so violently in the first place (they were part of a nationalist movement trying to pressure the Iranian government into establishing an autonomous Arab state in an oil-rich part of the country). At times, though, 6 Days feels more like a gritty Channel 4 drama than a movie you'd actually pay to see at the cinema, but that's par for the course with a fair few of these Netflix Originals. I guess we should just get used to it.
On a knife edge: 6 Days recreates 1980's Iranian Embassy siege
Bobbi Jene (MUBI)

WWW

was voted Best Documentary at the Tribeca Film Festival back in April and it is easy to see why. Elvira Lind's second film is a raw and intimate portrait of Bobbi Jene Smith, a contemporary dancer based at the acclaimed Batsheva company in Tel Aviv, Israel. When we first meet her, the then 30-year-old is planning permanent return to her US homeland after 10 years. There are two strands to Lind's film – Smith's desire to strike out and explore her art on her own terms, and the impact this has on her relationship with Israeli boyfriend and fellow dancer, Or, who does not make the trip to the States.

Smith clearly adores Or and the physicality of their attraction is something Lind captures perfectly, but the real love of her life is her craft. At one point she discusses how "gaga" – the tough dance discipline particular to Batsheva – helped her conquer an eating disorder and you don't doubt it for a moment, such is Smith's commitment to and immersion in its principles.

When the film begins it is easy to dismiss Smith's relocation dilemma as the most first world of first-world problems, but my respect for her steadily grew. Just seeing Smith warm up is exhausting, let alone watching her actually perform. She dances one self-choreographed piece completely naked which, even with a dancer's perfectly toned body, is an incredibly daunting undertaking in front of an audience only a few feet away. Lind's film unearths a fearless, ferocious artist and Bobbi Jene is therefore worthy of your attention, whether you know anything about contemporary dance or not.

The dance of reality: Bobbi Jene faces a big dilemma
Terry Zwigoff's original Bad Santa (2003) was a perfect blend of black-hearted cynicism and unalloyed charm. It was a profane but sweet-natured joy, with Billy Bob Thornton's boozy conman Willie Soke spitting out foul but hilarious one-liners while trying to suppress fatherly feelings for Thurman (Brett Kelly), a supremely naïve young boy convinced department store Santa Soke was the real Father Christmas. It really didn't need a sequel but, here we are, 14 years on and Bad Santa 2 (DVD, Blu-ray and VOD)

WW

comes clattering down the chimney whether we like it or not.
Mark Waters' film has a lot to live up to and, of course, fails to do so. That isn't to say it's terrible though. In this second instalment, Soke has returned to his life of rampant alcoholism and criminality after the original's "happy ending" quickly went sour. He is reunited with Marcus (Tony Cox), despite being betrayed and shot by him in the original movie. A welcome addition to the cast is Kathy Bates, playing Willie's mum Sunny, and the three of them plot to rip off a children's charity run by Christina Hendricks' frustrated Diane and her creepy husband, Regent (Ryan Hansen). Thurman returns from the first film all grown up but is rather underused.
It's astonishingly crass and incredibly vulgar but there are plenty of laugh-out-loud moments, even though you'll most likely hate yourself for cracking up at jokes so scatalogical they make Roy Chubby Brown sound like Joyce Grenfell. It has little of the original film's charm which means Bad Santa 2 eventually runs out of gas, but director Waters (Mean Girls) just about gets away with it because his cast clicks so well. Bates looks like she's having the time of her life as a woman so awful she refers to her only son Willie as "shit stick", while Thornton is as eminently watchable as ever.
X-rated Xmas: Billy Bob Thornton returns as Willie Soke
Film of the week:
Bobbi Jene
What I shall be watching this week: I'm not exactly excited about either Murder On The Orient Express or Breathe, but maybe one of them will surprise me.
My first full-length review for Film Inquiry went up last week. You can read it here.

Top 10 best-selling UK DVD/Blu-rays (films only)
1. Transformers: The Last Knight
2. The Mummy
3. Fast & Furious 8
4. Beauty And The Beast
5. Moana
6. Wonder Woman
7. Pirates Of The Caribbean: Salazar's Revenge
8. Hampstead
9. My Cousin Rachel
10. Paddington