1. The Oscars ceremony doesn't get underway until 01.30 in the morning UK time so I watched it on catch-up yesterday instead. I may have missed out on all the excitement of seeing the show live but at least I could fast-forward through the ads... and Alex Zane's bits.
2. On the subject of Alex Zane's bits, since when is Countdown's Rachel Riley an authority on film?

3. Suicide Squad won an Oscar - that's one more than The Big Lebowski, His Girl Friday, Kind Hearts And Coronets, Duck Soup, Frankenstein, Heat, M, A Matter Of Life Or Death, The Searchers, Don't Look Now, À Bout De Soufflé, or The Shining. Really.

4. I'm not particularly familiar with Jimmy Kimmel but he was a fine host who I'd be happy to see back again next year. His ongoing 'feud' with Matt Damon, especially the We Bought A Zoo takedown, was hilarious. That bit with the kid from Lion was just a little odd, though, wasn't it?
5. Outfit of the night...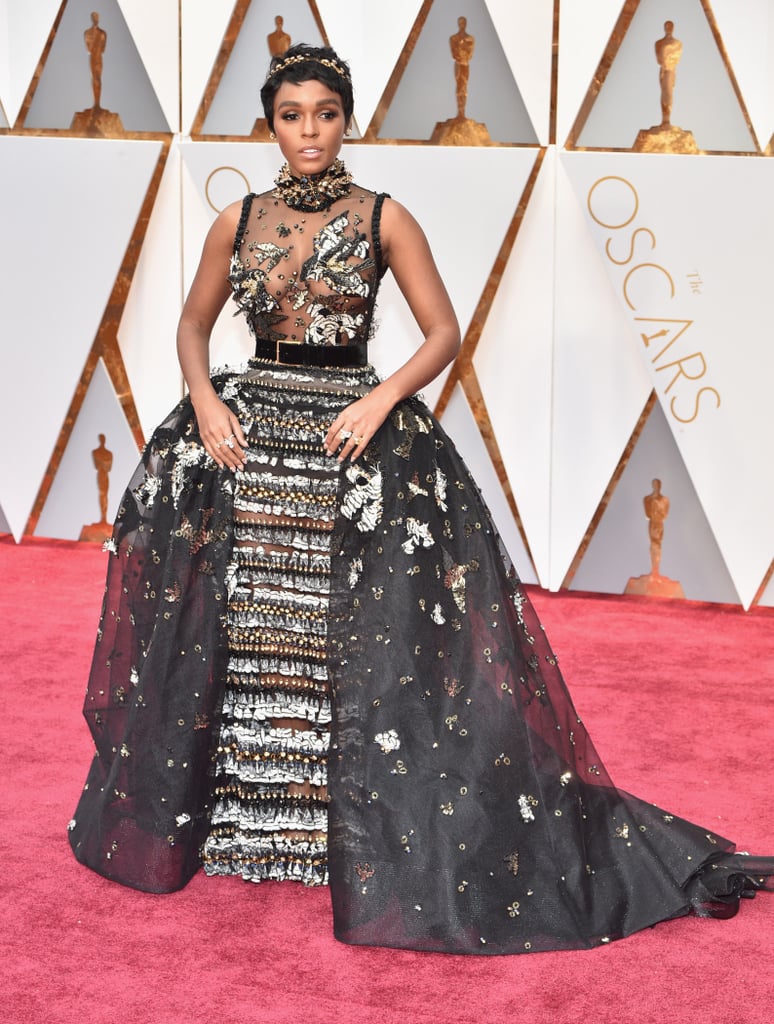 6. Hairdo of the night...
7. Bowtie that looked most like a bat...
8. Just when I didn't think it was possible for me to love composer Mica Levi more than I already do...
9. I loved the segments in which stars of today were asked to wax lyrical about their favourite old-timey film performances. If you didn't see it, Charlize Theron chose Shirley MacLaine in The Apartment, Javier Bardem went for Meryl Streep in The Bridges Of Madison County, and Seth Rogen spoke from the heart about his love for Michael J Fox in Back To The Future. Each pair then appeared together on stage to present an award. It was a lovely way of tying together Hollywood's past and present, and I hope they do more of it in future years.
10. The ceremony got the anti-Trump sentiment just about right. A couple of decent jabs from Kimmel and some impassioned speeches about tolerance, inclusivity and the contribution immigrants have made to the US film industry, plus the absent Best Foreign Language winner Asghar Farhadi's statement read out on stage. Any more would have been overkill.

11. Justin Timberlake's song from the movie Trolls - Can't Stop The Feeling! - is as catchy as Ebola and I haven't been able to get it out my head since it opened the ceremony.
12.
The stunt with the tourists was great fun although I was struck by how many of the group spent their time filming what was happening right in front of them on their phones, instead of actually experiencing it. Weird.


13. I wonder how much of a bollocking that dancer got for walloping Moana's Auli'i Cravalho in the face with a flag during her big number?

14. The Casey Affleck problem (Brie Larson apparently refused to applaud his Best Actor victory, despite presenting him with the award, while Denzel Washington didn't seem at all happy to be namechecked from the stage during his acceptance speech). Unfortunately, reprehensible human beings sometimes make great art. Sad but true.
15. Disappointments? The Oscars are always disappointing because of the way the Academy treats foreign language cinema (stuffs it all into one category), horror and comedy (completely ignores them). Plus, great films are overlooked every year (nothing for The VVitch, Love & Friendship or Julieta this time). The biggest let-down on the night for me, though, was Emma Stone beating Isabelle Huppert to the Best Actress prize. Stone is terrific in La La Land, don't get me wrong, but this was an opportunity for the Academy to not just award Huppert for her stunning turn in Paul Verhoeven's Elle but for the incredible work she has done year in, year out over a career spanning five decades. She has been referred to as the 'French Meryl Streep' but Streep would never go near the kind of challenging roles Huppert does as a matter of course. The Academy blew it.

16. The twist ending wasn't the only cock-up at the ceremony and arguably not even the worst. Neglecting to feature Gary Shandling during the In Memoriam section, and then showing a photo of a woman who was still very much alive was beyond sloppy. I suspect there will be at least a couple of people looking for new jobs this week.
17. Jennifer Aniston's small tribute to Bill Paxton (who passed away on Saturday), before the In Memoriam segment, was very classy.
18. It's been amusing to watch the way in which La La Land's critical standing has waxed and waned over the last six months. First, it was a masterpiece, then an overrated nostalgia fest full of cultural appropriation and amateurish dance routines. Now, post-wrongfilmgate, it's back in everyone's good books. At this rate, Damien Chazelle's musical will be a shoo-in for next year's Best Picture award.
19. The historical link between Best Director and Best Picture winners continues to break down. Only once in the last five years has the winner of Best Director and Best Picture been from the same film (Alejandro González Iñárritu and Birdman in 2015). In the 20 years up to 2013, however, the film taking director and picture prizes was the same on 16 occasions. Perhaps the Academy are keener to 'spread the love' these days or maybe directors aren't as important as they used to be.
20. Congratulations to Moonlight. Not just the first LGBT movie to win Best Picture, but one of its stars, Mahershala Ali, became the first Muslim to win an acting Oscar. In 89 years. I'll say that again: EIGHTY. NINE. YEARS. And, to think, there were those who questioned last year's calls for more diversity.
21. As far as I'm concerned, Warren Beatty and Faye Dunaway could have come out on stage, eaten a basketful of kittens and performed a song and dance number with Milo Yiannopoulos, BEFORE reading out the wrong card, and I would've still forgiven them. They're old, they're screen legends, they can do what the heck they like.
22. The best explanation for that La La Land/Moonlight snafu? Turns out we all live in a giant computer simulation and it is malfunctioning.