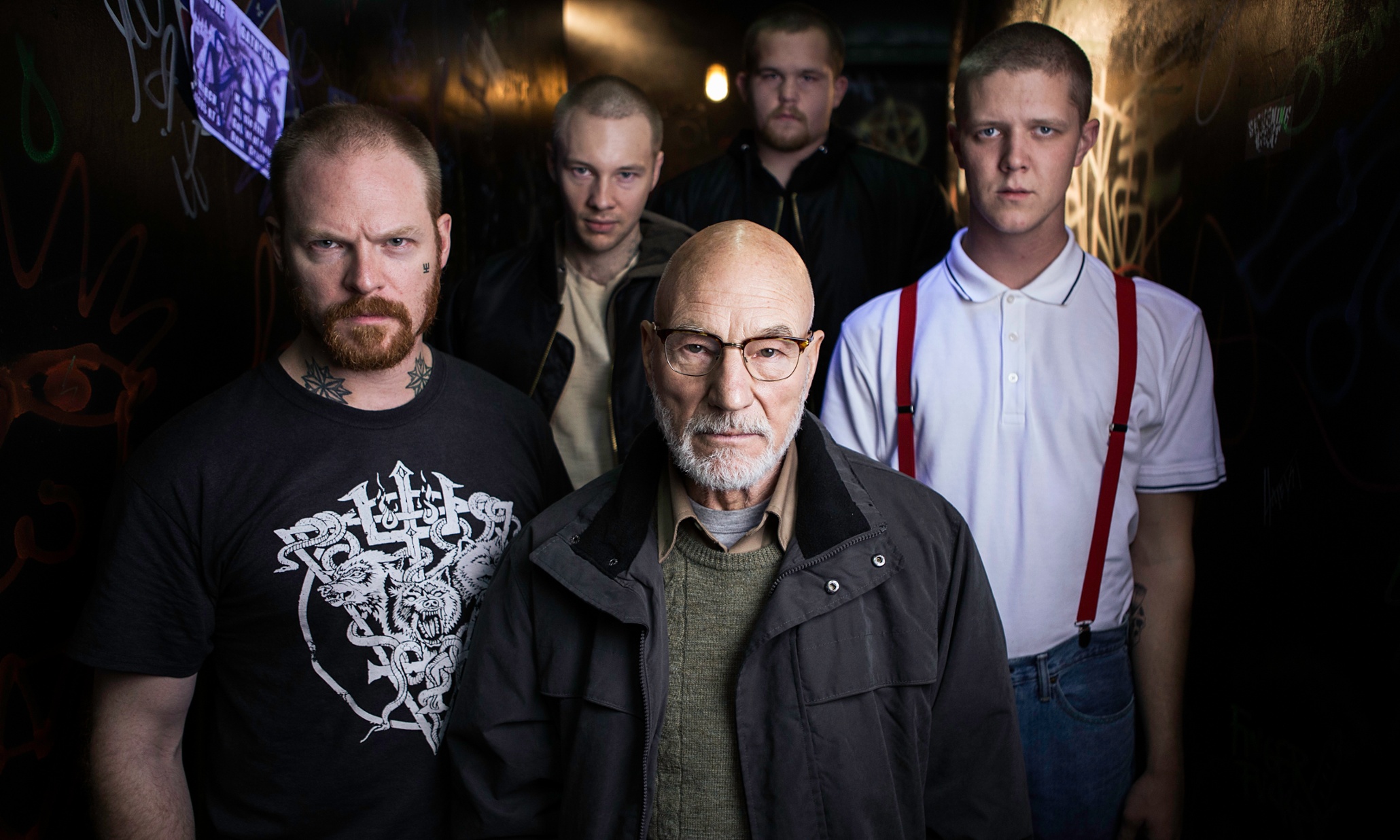 Make it so: Patrick Stewart is a nasty piece of work in Green Room
TV, Radio, DVD, Blu-ray, VOD and cinema picks for the next seven days

...



Monday 9th: Quentin Tarantino's The Hateful Eight (DVD, Blu-ray and VOD) is typical of the director's late period work - self-indulgent and interminable, yet chock-a-block with clever writing, excellent performances and genuine WTF moments. Set a few years after the American Civil War, it sees a cast of ne'er do wells holed up in a snowbound staging post with recrimination and paranoia their only companions. Essentially, it's an Agatha Christie-style 'locked-room' mystery, albeit one regularly punctuated by eye-watering acts of ultra-violence. Samuel L Jackson is superb as a badass bounty hunter
but it's Jennifer Jason Leigh as convicted killer Daisy Domergue who steals the show. Read my original review here.
The Hateful Eight: Eye-watering acts of ultra-violence
Also available from today is Room (DVD, Blu-ray and VOD) for which Brie Larson won the Best Actress Oscar. Lenny Abrahamson's film starts off as a claustrophobic thriller about a mother and her young son imprisoned in a tiny room by a Fritzl-style abductor, but quickly turns into something rather more complex and emotional. Jacob Tremblay - only nine years old when he made the film - turns in the finest performance I've seen from a child actor in many years. Elsewhere, Kristen Wiig plays a bipolar woman who uses her lottery winnings to finance a bizarre TV talk show in the offbeat and underrated comedy Welcome To Me (VOD), while Janis: Little Girl Blue (DVD) is a warts and all documentary about the life and death of tragic rock 'n' roller Janis Joplin. The
Criterion Collection gives us the dated but massively influential '60s road movie
Easy Rider (Blu-ray), and Tom Hardy's bravura turn as both Kray Twins is reason enough to watch Legend (Amazon Prime Video).
Jacob Tremblay and Brie Larson are superb in Room
Tuesday 10th:
Whatever happened to Paul Verhoeven, the talented and subversive Dutch director who bestrode '80s and early-'90s cinema like a colossus with films such as Robocop, Basic Instinct, and Total Recall (23:10, ITV4)
? I'd got it into my head he'd been laughed out of Hollywood following the critical mauling meted out to 1995's kitsch and seedy
Showgirls
but that turned out to be a false memory (rather fitting as we shall see). In fact, the filmmaker was back on top form just two years later with the underrated sci-fi satire
Starship Troopers
, and directed Kevin Bacon in the big-budget
Hollow Man
at the turn of the century. But maybe 20 years in La La Land were enough as Verhoeven - now 77 - returned to his native Holland soon after, from where he gave us 2006's
Black Book
and this year's Elle (starring Isabelle Huppert and about to debut at Cannes).
Total Recall
remains a beautifully-realised and hugely-imaginative slice of SF. Based on the Philip K Dick short story
We Can Remember It For You Wholesale
, it stars Arnold Schwarzenegger as Douglas Quaid, a man travelling to Mars to lead a revolt against a corrupt regime – or, thanks to false, implanted memories – he could be dreaming the whole thing. It's certainly one of the very best Dick adaptations and the jaw-dropping special effects – courtesy of Rob Bottin and his team – deservedly won an Oscar. I still haven't seen 2012's remake/reimagining/reboot (or whatever the hell it was) and have no plans to do so.
Betty Blue: The Director's Cut (23:35,
Film4
) stars
Béatrice
Dalle as the seductive but self-destructive titular character in a much-extended version of Jean-Jacques Beineix's
'
80s classic. The fact this film is 30 years old makes me feel positively ancient.
Accept no substitutes: Arnie in the original Total Recall
Wednesday 11th:
Brendan Gleeson is on top form as a doomed priest in fine black comedy
Calvary (Amazon Prime Video), while to mark the start of this year's Cannes Film Festival, MUBI are showing
The Duellists. Ridley Scott's debut feature, which charts an epic feud between two Napoleonic officers (Keith Carradine and Harvey Keitel),
won Best Debut Film award at the 1977 festival. My Week With Marilyn (22:00, BBC4) is based on Colin Clark's memoir about the friendship he struck up with Marilyn Monroe during the 1957 London shoot of The Prince And The Showgirl. Eddie Redmayne is Clark, Kenneth Branagh plays Laurence Olivier and Michelle Williams makes a pretty convincing Marilyn.
Thursday 12th:
Jim Jarmusch's
Coffee and Cigarettes (MUBI) features the likes of Bill Murray, Tom Waits and Roberto Benigni in a series of vignettes all connected by the titular items. The Film Programme (16:00, BBC Radio 4) pays homage to producer/director Antonia Bird (Ravenous, The Hamburg Cell) who passed away in 2013. A retrospective of her work runs at the BFI from today.
Yes we Cannes: Ridley Scott's The Duellists

Friday 13th: Director Richard Linklater (Boyhood) talks about Everybody Wants Some!! on Kermode And Mayo's Film Review (14:00, BBC Radio 5 Live). The movie - a nostalgia-soaked comedy about a college baseball team - opens in UK cinemas today. As does Our Kind Of Traitor, another John Le Carré adaptation, this time starring Naomie Harris and Ewan McGregor as an ordinary English couple in way over their heads when they get mixed up in international espionage and dirty politics. Equally promising is Green Room, writer/director Jeremy Saulnier's follow-up to 2014's excellent Blue Ruin, a horror-thriller which sees a down-on-their-luck punk-rock band menaced by unhinged club owner Patrick Stewart and his gang of neo-Nazi skinheads. Your best bet TV-wise today is Roman Polanski's film noir masterpiece Chinatown (00:35, Channel 4). In a 1930s LA riddled with corruption and tawdry secrets,
Jack Nicholson is dogged private eye JJ Gittes,
Faye Dunaway the femme fatale who might just be the death of him. Brilliant stuff.
Green Room: Band on the run
Saturday 14th: The X-Men face off against Batman on terrestrial TV tonight. X-Men: First Class (Channel 4, 21:00) is director Matthew Vaughn's
'
60s-set tale of how Professor Charles Xavier (James McAvoy rather than Patrick Stewart) brought his first generation of merry mutants together to battle Magneto (Michael Fassbender rather than Ian McKellen). It's certainly a lot more fun than Christopher Nolan's terminal grit-fest The Dark Knight (ITV, 22:15), which sees Christian Bale's Batman take on The Joker (the late Heath Ledger) and Two Face (Aaron Eckhart). Oscar-winner Ledger makes a terrific Crown Prince of Crime but the film is too long, Bale's gruff Batman voice quickly becomes irksome, and the whole shebang could have done with a lot more humour. At least it's better than The Dark Knight Rises though.
Heath Ledger's Joker lights up
The Dark Knight
Sunday 15th:
I happened to catch
Home Alone
for the umpteenth time recently and seeing John Candy's cameo in that film made me realise just how much I miss the late, great Canadian comic. He was a very, very funny man who passed away at the ridiculous age of 43 back in 1994.
Uncle Buck (16:00, ITV)
in which Candy plays an unreliable slob with a penchant for disaster, isn't his best work but certainly has its moments ("Take this quarter, go downtown, and have a rat gnaw that thing off your face! Good day to you, madam"). 21 Jump Street (21:00, Channel 5) is a genuine rarity - a movie reboot of an old TV show that actually works. Channing Tatum and Jonah Hill are the mismatched rookie cops sent back to their old high school to infiltrate a drugs ring. If you're after something a bit more cultured, there's John Huston classic The Maltese Falcon (20:00, TCM) which sees cynical private eye Sam Spade (Humphrey Bogart) searching for a mysterious statuette following the death of his partner.
Humphrey Bogart is Sam Spade in The Maltese Falcon
Last 5 Films I Saw
1. Son Of Saul (2015): László Nemes's Auschwitz-set story of a Jewish prisoner trying to arrange a proper burial for a dead boy he believes to be his son (or does he?). It's an extraordinary piece of work that is both harrowing and artful. In cinemas and On Demand now.
2. Look Who's Back (2015): Not that I'm obsessed with Nazis or anything but... Adolf Hitler returns to life in 21st century Berlin in this biting satire from Germany. Disappointingly, it hasn't had a cinema release in the UK or even been released on DVD/Blu-ray here. It is available on Netflix though.
3. The Last Picture Show (1971): Peter Bogdanovich's
'
50s-set tale of a dying Texas town fully deserves its classic status. Coming of age stories have rarely been this bleak or melancholy.
4. Ricki And The Flash (2015): Meryl Streep is fantastic as a failed rock singer trying to reconnect with the family she walked out on years before. It'd be nothing without Diablo Cody's excellent screenplay though. Currently showing on Sky Movies Premiere.
5. Special Correspondents (2016): Let's hope Ricky Gervais's forthcoming David Brent: Life On The Road is an improvement on this Netflix-only release, which is not only deeply unfunny but also clumsily racist.
Son Of Saul: Harrowing and artful
UK box office top 10
1. Captain America: Civil War

R


2. The Jungle Book

R


3. Eye In The Sky
4. Zootropolis

R


5. Bastille Day
6. Demolition
7. Friend Request
8. Son Of Saul

R


9. Eddie The Eagle
10. Ratchet And Clank