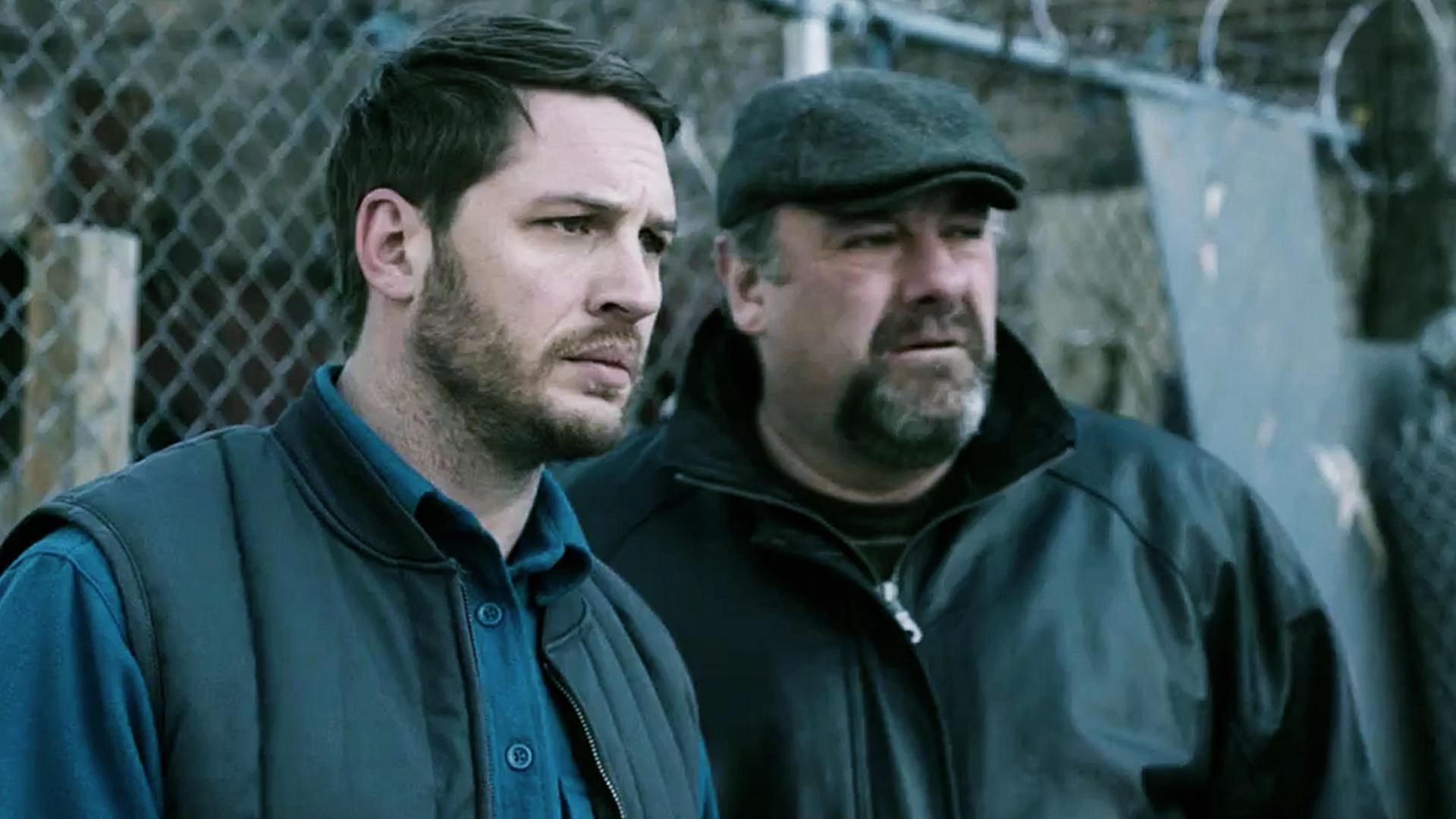 FILM OF THE WEEK
The Drop
(11:45 and 22:00, from Friday, Sky Movies Premiere)
I did a phone interview with Tom Hardy once, back when I worked at rubbish men's mag Maxim and he starred in equally rubbish Star Trek film Nemesis. I must admit, I thought he was trying a bit too hard to appear "laddish" during our chat but maybe he felt obliged bearing in mind the magazine's concerns rarely extended beyond "birds, beer and more birds". Back then, when he was playing Shinzon, Captain Picard's evil clone, I'd certainly never have imagined he'd grow into the superb actor he is today. Shows how much I know. Released last year, The Drop - directed by Michaël R. Roskam (Bullhead) and adapted by celebrated crime writer Dennis Lehane from his own short story - features one of Hardy's best performances in a career now jam-packed with them.

The actor plays Bob Saginowski, a lonely Brooklynite who works at 'Cousin Marv's', a local bar used as a 'drop' by its Chechen gangster owners to covertly move around illegal takings. The bar is robbed by two armed gunmen and Bob and Cousin Marv (the late James Gandolfini in his final role) come under pressure to retrieve the money themselves. Meanwhile, Bob rescues a battered pitbull puppy and starts a tentative relationship with Nadia (Noomi Rapace) whose unstable and violent ex-boyfriend (Matthias Schoenaerts) is still hanging around to cause trouble.
On the surface, the story is a simple one but contains quite a few twists and turns along the way that you really wouldn't want me to divulge or even hint at. Suffice to say, Gandolfini (who could do 'washed-up wise guy' parts in his sleep) and Hardy are good together, the latter's Brooklyn accent pretty much perfect, while Bob himself turns out to have hidden depths. Anyone who has recently seen Hardy chewing the scenery as both Ronnie and Reggie Kray in Legend might be surprised he can do vulnerable and subtle, but that's exactly what we get here in a low-key, character-driven crime drama that is never less than compelling.
This week's DVD and Blu-ray highlights...
The Curse Of The Werewolf (Blu-ray) Oliver Reed's lycanthrope has a howling good time in 18th Century Spain. There's a lot of vintage horror out this week...
Nightmares In A Damaged Brain (Blu-ray) Romano Scavolini's controversial slasher classic from 1981 makes its way on to Blu-ray for the first time.
The Man Who Could Cheat Death (Blu-ray) Christopher Lee stars in Terence Fisher's Hammer horror about a 104-year-old man who kills and harvests the bodies of the living to stay alive. Features a brand new 1080p high-definition transfer in the film's original aspect ratio.
The New Girlfriend (DVD) Francois Ozon's fantastic French comedy/drama centring on the complicated relationship between a widower and his dead wife's best friend. One of the year's most enjoyable and provocative films.
Rashomon (Blu-ray) Akira Kurosawa's masterpiece about the nature of truth (the story is told from four different and contradictory perspectives) turns 65. Restored in high definition and featuring a new audio commentary as well as a documentary visiting some of the film's original locations. Trailer below
This week's VOD and streaming highlights...
(available now unless otherwise stated)
The Goob (various streaming services) Atmospheric British coming-of-age drama from writer/director Guy Myhill. Sean Harris is at his sinister best as the villain of the piece.
John Wick (vss) Keanu Reeves as a long-retired assassin back in action after a run-in with Russian gangsters. Next to Mad Max: Fury Road, probably the year's best action flick.
Pitch Perfect 2 (vss) Anna Kendrick, Rebel Wilson and the Barden Bellas return for a second helping of amusing acapella antics (I really liked the first movie). Trailer below
Thor: The Dark World (Netflix UK, from Thursday) Marvel superhero shenanigans featuring Chris Hemsworth's God of Thunder against Christopher Eccleston's goblin-troll thingy, Malekith.
The Emperor's New Clothes (Amazon Prime, from Friday) Russell Brand – Jeremy Corbyn with nicer hair – holds forth on the horrors of 21st Century capitalism.
This week's Terrestrial highlights...
The Box (23:55, Friday, BBC1) Richard 'Donnie Darko' Kelly horror in which a struggling married couple (Cameron Diaz and James Marsden) receives a mysterious box. Pressing a red button within the box will get them a million dollars... but kill a stranger. Trailer below
The Children (00:35, Friday, BBC2) A Christmas holiday turns nasty when one by one a family's children get sick, before viciously attacking the adults. Sounds like every Christmas at my house, to be honest.
The Fast And The Furious: Tokyo Drift (22:40, Friday, ITV) An American teenager on the run from the police escapes to Japan to compete against other "drift racers" (no, me neither).
Midnight's Children (20:15, Saturday, BBC2) Screenwriter Salman Rushdie adapts his own Booker Prize winning novel in an intriguing film that mixes magical realism with an exploration of India's post-Colonial history.
Mystery Road (00:05, Saturday, BBC1) Aaron Pedersen and Hugo Weaving star in an effective Aussie thriller about an Indigenous detective returning home to a small Outback town to investigate the murder of a teenage girl.
This week's Cable and satellite highlights...
Master And Commander: The Far Side Of The World (18:20, Wednesday, Film4) Russell Crowe and Paul Bettany splice the mainbrace and do something or other to the mizzen in this exciting maritime adventure set during the Napoleonic Wars.
Waterworld (00:10, Thursday, ITV4) Dystopian sci-fi adventure in which Kevin Costner plays a sort of bargain-basement Aquaman, complete with gills. The Polar ice caps have melted or something... Trailer below
Million Dollar Baby (21:00, Thursday, Sky Atlantic) Hilary Swank stars in a boxing-related blubfest from director Clint Eastwood. For reasons I've never quite grasped it won four Oscars including Best Picture and Best Director. Meh.
Desperado (23:10, Friday, Movie Mix) Roberto Rodriguez's sequel to El Mariachi sees Antonio Banderas out for the kind of revenge only shooting lots of people in stylishly-filmed but horribly bloody gun battles can possible sate. Salma Hayek co-stars.
Uncle Buck (19:00, Sunday, ITV2) John Candy is the titular Buck in John Hughes' enjoyably incorrect comedy about a total slob being drafted in to look after his brother's kids during a family crisis. Not either man's best work but still pretty damn funny.
Please note: Films starting after midnight are always considered part of the previous day's schedule, e.g. Mystery Road begins at 00:05 - technically Sunday morning - but is still part of Saturday's listings. All times in 24-hour clock.
Ratings



WWWW

= Wonderful


WWW

= Worthwhile


WW

= Watchable


W

= Woeful